Post Classifieds
Begin your journey with travel
The study abroad programs available at Kirkwood
By Jake Slobe
On September 15, 2014
Exploring the world beyond borders exposes students to different cultures, languages and perspectives.
Ken Nesbett, study abroad advisor, said, "Studying abroad is an excellent opportunity to expand your horizons, experience and appreciate other cultures and offer a resume with intercultural experience, all while earning college credit."
According to Nesbett, this year there will be 20 study abroad programs in 14 different countries.
While some of the study abroad programs are only for students who are obtaining a specific degree, the majority of the programs are open to all students, said Nesbett.
There are some destinations available this year that have not been available in previous years such as China, Peru and Spain.
"You should target a destination and a program that fits with your academic and personal interests," said Nesbett. For some students, that might mean exploring your heritage, and for others, a country with future international business opportunities may be a better fit.
Whatever the motivation, researching the country and program is the critical first step toward a positive and rewarding experience.
All students who are interested in studying abroad can apply for the Global Advantage Scholarship. "The scholarship is awarded to over 80 percent of the students who apply and ranges from $1,000 - $2,000," said Nesbett.
Application deadlines for the two upcoming destinations in January, India and Guatemala are due by Oct. 3. The deadline for the Brazil program, which will take place during spring break, is due by Oct. 15.
In an increasingly interconnected, global world having diverse perspectives is an increasingly important skill to have and will help students become more marketable to future employers.
Another benefit of studying abroad, according to Nesbett, is that it removes students from the normal support network they are so used to having back at home. Being away from family and friends can often seem overwhelming at first but it allows students to gain independent skills that will be invaluable to them for the rest of their lives, he added.
Nesbett said any student who is looking to learn more about study abroad programs or has any questions about the programs should stop by 1154 Linn Hall or visit www.kirkwood.edu/studyabroad for more information.
Get Top Stories Delivered Weekly
More kirkwoodstudentmedia News Articles
Recent kirkwoodstudentmedia News Articles
Discuss This Article
MOST POPULAR KIRKWOODSTUDENTMEDIA
GET TOP STORIES DELIVERED WEEKLY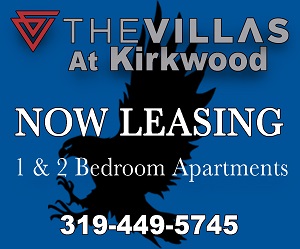 RECENT KIRKWOODSTUDENTMEDIA CLASSIFIEDS
HOUSING

JOBS

FOR SALE

TUTORS
Kirkwood students often admire
Lasik Omaha
doctors that are carving new paths in the field of eye care and transforming the way routine eye procedures are done.