Post Classifieds
Hypnotist fills gym with laughter
By Kelsey Wood
On September 15, 2014
Johnson Hall was jam packed with students and faculty on Aug. 28 for the return of hypnotist Brian Imbus as part of Welcome Week at Kirkwood Community College.
Thirty students were selected to be hypnotized and the crowd watched as those chosen were convinced that they had lost their belly buttons or that they were the world's most beautiful Playboy Bunny models.
Seth Vander Tuig, associate director of Student Life, said this year was the most successful year for the hypnotist. "Over 900 students attended the event," he added.
According to Vander Tuig, Student Life decides what they will do during Welcome Week and they agreed they wanted Imbus to return for another show.
Imbus began the show with explaining a little bit about hypnosis. He said, "One hour of hypnosis is equal to about eight hours of sleep." He said being hypnotized is a lot like driving a car because people are aware of what's going on around them but they just don't care.
Imbus then moved on to helping students find out if they would be able to be hypnotized with a few exercises. He selected students, including Alicia Crivaro, who was hypnotized during the show last year.
Once he put her under hypnosis he made her believe she was the guest on a game show and the million dollar question was "What is your name?"
However, Crivaro had no idea what her name was because Imbus suggested she would not remember it.
The show was full of laughs and learning moments that is if students ever needed an excuse as to why they were speeding in a million dollar car. During the show Imbus had some students thinking they were getting chased by bees, they were Rocky Balboa or they were freezing due to a broken air conditioner.
One participant, named Lindsey Richard, Education, said, "I remember tiny things that my friends told me," she said. "Waking up I definitely felt really refreshed," she added.
Overall the event was a success, according to Vander Tuig. the event lasted about an hour and a half.
Get Top Stories Delivered Weekly
More kirkwoodstudentmedia News Articles
Recent kirkwoodstudentmedia News Articles
Discuss This Article
MOST POPULAR KIRKWOODSTUDENTMEDIA
GET TOP STORIES DELIVERED WEEKLY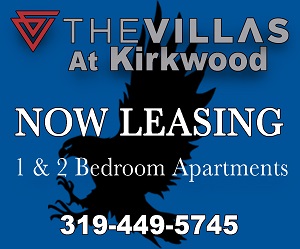 RECENT KIRKWOODSTUDENTMEDIA CLASSIFIEDS
HOUSING

JOBS

FOR SALE

TUTORS
Kirkwood students often admire
Lasik Omaha
doctors that are carving new paths in the field of eye care and transforming the way routine eye procedures are done.