Post Classifieds
Recycling options needed at campus apartments
Staff Editorial
On September 24, 2014
Our generation is willing to make the necessary changes to have an impact on our environment. That is why recycling is something we are passionate about.
If it makes the world a better place, why isn't everyone doing participating in recycling?
This is a question for the off-campus apartments which don't currently offer recycling as an option. Many students are throwing their empty bottles and other recyclables into the dumpster not because they don't care about the environment it's because the apartment managers haven't given them another option.
The fact is, after students drop recyclables into those dumpsters, a garbage truck will take it to a designated landfill. The recyclables can take as long as one million years for just a single glass bottle to decompose in a landfill, according to the New Hampshire Department of Environmental Service.
Saving the environment for future generations is a vital part of being a responsible member of society. Students can be the leaders in the world of recycling but they need a little bit of help from the apartment managers.
We strongly recommend that the managers of the apartments surrounding Kirkwood Community College's Main Campus immediately make recycling available to all renters.
Recycling should be a free service that is part of the lease. Students who want to recycle should be able to do so without difficulty.
It does take some time to separate and recycle but that's less time than the several life times for recyclables to decompose.
Get Top Stories Delivered Weekly
More kirkwoodstudentmedia News Articles
Recent kirkwoodstudentmedia News Articles
Discuss This Article
MOST POPULAR KIRKWOODSTUDENTMEDIA
GET TOP STORIES DELIVERED WEEKLY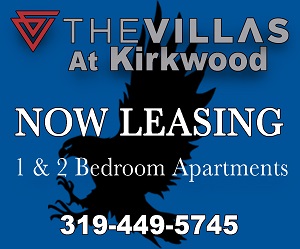 RECENT KIRKWOODSTUDENTMEDIA CLASSIFIEDS
HOUSING

JOBS

FOR SALE

TUTORS
Kirkwood students often admire
Lasik Omaha
doctors that are carving new paths in the field of eye care and transforming the way routine eye procedures are done.