Post Classifieds
Is the Apple Watch worth the cost for students?
By Drake Bishop
On September 24, 2014
Recently, Apple ran a press release to reveal what the company has worked on and boasted both the iPhone 6 and a device that seemed to have even more anticipation. This device is the Apple Watch.
For the moment, other devices such as the Pebble watch had to prove that it was a worthy acessory to the iPhone and now, Apple is developing an accessory that can do more.
Using maps, answering phone calls, reading emails and text messages, viewing push notifications, drawing messages and even tracking workout statistics are all features the watch will be able to do and more.
The user needs to have a recent iPhone model to use the watch and it's a fantastic partner for the phone.
No matter what the Apple Watch is able to do, it will not be able to do as much as an iPhone will
Therefore it should be expected to cost less. Unfortunately, that expectation has been shot down.
When buying a newer model, a large number of iPhone users purchase between the 16GB and the 32GB phone. Many other consumers choose an older model. Depending on the unit, the buyer is going to spend between $100 and $300. So, what is the price of the Apple Watch? The starting price is $350.
The $350 price tag means that if someone purchased their iPhone with a two year contract, unless they purchased a phone with a 64GB storage size, they're paying more for the companion than the phone. This is like paying more for the car sound system than the car itself. Think about what a person could purchase for $350, such as a Wii U system bundle, a laptop, a Windows 8 tablet or really anything else more useful for the same price .
The point is trying to justify the price of what is not just a great idea but also a bit of a luxury item. Is a watch to go with the iPhone a necessity? No.
People are able to pull their phones out of their pockets and purses and do everything they need to. There will be people with a lot of money to spend but for people reading this article and attending college, buying an iPhone itself is expensive enough.
Will the Apple Watch tank after this kind of business plan from Apple? It's hard to tell.
There's the argument that the iPods cost the same amount of money but were hugely popular. However, the user didn't need to spend hundreds of dollars on a device besides owning a computer before being able to use the iPod.
People need to not get overly excited about an item before they truly think about what it will do for them. If the people decide the Apple Watch is too costly for the benefits it provides, they will vote with their wallets and Apple will learn a lesson.
Get Top Stories Delivered Weekly
More kirkwoodstudentmedia News Articles
Recent kirkwoodstudentmedia News Articles
Discuss This Article
MOST POPULAR KIRKWOODSTUDENTMEDIA
GET TOP STORIES DELIVERED WEEKLY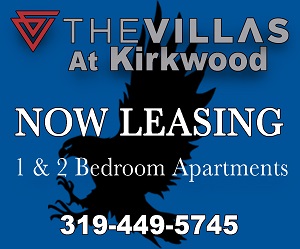 RECENT KIRKWOODSTUDENTMEDIA CLASSIFIEDS
HOUSING

JOBS

FOR SALE

TUTORS
Kirkwood students often admire
Lasik Omaha
doctors that are carving new paths in the field of eye care and transforming the way routine eye procedures are done.