Post Classifieds
Overcoming roommate scuffs
Learning how to cope: Stopping problems right in their tracks
By Kelsey Wood
On September 24, 2014
Now that the fall semester has started, student stress levels may be rising due to school projects, job schedules and adjusting to life with roommates. Many students choose to move in with their friends, complete strangers or students they found on Kirkwood's Roommate finder page on Facebook. Whatever the case may be, Associate Director of Student Life, Seth Vander Tuig, provided some helpful tips for students who are struggling to cope with their new living situation.
Vander Tuig said he encourages students to try to set ground rules very early on with new roommates. Whether that means not being loud during certain times of the day or invading each other's privacy.
"The biggest thing that everything comes down to is communication," said Vander Tuig. He added, even if conflicts arise between roommates, they should still try to work it out by talking about the problems.
Vander Tuig also said that small problems will often add up to big problems and one of the most common complaints he has heard is that one roommate does not keep the living space as clean and another roommate would like.
Food is another big issue for students, said Vander Tuig. Whether they are sharing or not, it usually comes down to one person eating the last of something and not buying more.
"Everyone always tries to just be quiet and assume that they're in the right and their roommate is in the wrong. When usually it is somewhere in the middle," he said.
Vander Tuig also said the earlier students take care of a problem the less trouble it will cause and the easier it will be to deal with for everyone.
Michael Fortin, business, said, "The most important thing I learned was having an open line of communication. If you have a problem with something a roommate is doing, say something. Otherwise it just gets bottled up and you find yourself dreading living with that person." He continued, "And, when you say something, don't make it as an attack on them but rather a conversation about what is on your mind."
Another student, Rachel Keast, nursing, said, "Be honest and straight up with them. And if you have a problem with something don't just go hide in your room because it wont get any better."
If students are having a difficult time with roommates they should talk to the apartment managers or with Vander Tuig in the Student Life office.
If students need to talk to someone for more personal guidance they can set up an appointment with a Kirkwood counselor at 319-398-5540. Students may also stop by the counseling office at 108 Iowa Hall, from 8 a.m. to 5 p.m., Monday through Friday. For more information visit http://www.kirkwood.edu/counseling.
Get Top Stories Delivered Weekly
More kirkwoodstudentmedia News Articles
Recent kirkwoodstudentmedia News Articles
Discuss This Article
MOST POPULAR KIRKWOODSTUDENTMEDIA
GET TOP STORIES DELIVERED WEEKLY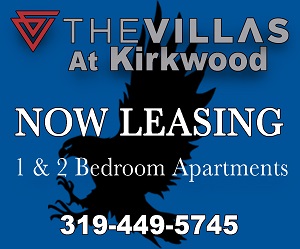 RECENT KIRKWOODSTUDENTMEDIA CLASSIFIEDS
HOUSING

JOBS

FOR SALE

TUTORS
Kirkwood students often admire
Lasik Omaha
doctors that are carving new paths in the field of eye care and transforming the way routine eye procedures are done.