Post Classifieds
Staff Editorial
All data created equal until FCC steps in
By admin admin
On October 8, 2014
Since its inception, the Internet has operated under the policy that all data is created equal. This means that any Internet based start-up can send and receive data at the same rate as Internet Giants, such as Amazon and Netflix, for no extra cost.
However, the Federal Communications Commission (FCC) is threatening to end this balance by allowing cable companies, such as Comcast and Time Warner to charge extra for increased data speed.
The FCC describes their proposed changes as introducing a "fast lane" that services, like Netflix, could pay to use. This would stream videos quicker to more users.
In practice, however, it is highly unlikely that services unable to pay extra will continue to receive adequate data speeds from cable companies. To continue the FCC's highway metaphor, they claim to be opening a new fast lane, when in reality they're simply allowing cable companies to open up a toll booth.
A large part of the issue is that of representation. FCC Chairman Tom Wheeler was appointed by President Barack Obama in November of 2013 in spite of the fact that Wheeler worked for many years as a lobbyist for the cable and wireless industry.
A potential conflict of interest coming from the chairman, however, isn't what sparked this debate.
It all started in January when a federal court of appeals ruled in favor of Verizon by overturning protections the FCC had imposed. It prevented broadband providers from blocking and discriminating against content.
The FCC then had to come up with a new plan to protect net neutrality, this time under the new chairman and former lobbyist Wheeler. He then introduced a plan that would prevent cable companies from discriminating against content outright but would allow broadband companies to charge indiscriminately.
While the problem is complex, the solution is relatively simple. Anyone can write the FCC to tell them to protect net neutrality by reclassifying broadband companies as common carriers. This will subject them to stricter regulations that would protect the open Internet. This however, is a short term fix and a government solution to a government problem.
The long term issue still remains. Cable companies have a virtual monopoly in many areas and immense lobbying power. Citizens need to pressure their congressional representatives to break these monopolies. The only way for consumers to reduce cable companies' power is to be able to take their business elsewhere.
Get Top Stories Delivered Weekly
More kirkwoodstudentmedia News Articles
Recent kirkwoodstudentmedia News Articles
Discuss This Article
MOST POPULAR KIRKWOODSTUDENTMEDIA
GET TOP STORIES DELIVERED WEEKLY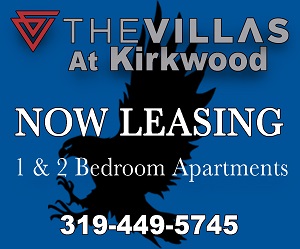 RECENT KIRKWOODSTUDENTMEDIA CLASSIFIEDS
HOUSING

JOBS

FOR SALE

TUTORS
Kirkwood students often admire
Lasik Omaha
doctors that are carving new paths in the field of eye care and transforming the way routine eye procedures are done.