Post Classifieds
Philippe takes 'Global Initiative'
By Kyle Langhurst
On March 23, 2015
Kirkwood Community College SEED student Hermanise Philippe is one of 1,100 students across the world chosen to present a commitment to action plan at the 2015 Clinton Global Initiative University in Miami, March 6-8.
Kirkwood International Programs coordinator Jane Anne Rix explained that as a SEED student studying agricultural sciences, Philippe developed a community action plan to fulfill requirements for the SEED scholarship.
While all SEED students develop their own unique plan, Rix said, "It takes commitment to prepare a plan for the Clinton Global Initiative University." These students' action plans are taken outside the classroom and judged on an international level. Nine Kirkwood students applied this year but Philippe was the only one asked to share her plan on the 2015 meeting agenda.
Before coming to Kirkwood from Cape Haiten, Haiti, where she graduated from Saint-Espirit College in 2012, Philippe said she admired her father who was a farmer and when she was young always had an interest in agronomy. Philippe explained how the deforestation in Haiti not only caused problems for her community but for her father.
"We have a river in my community and when it rains that river causes a lot of damage," said. Philippe.
She explained how the lack of trees and excess flooding causes much damage including lost crops and dead livestock. "People from Haiti cut [down] a lot of trees. We have 75 percent of electricity that [comes] from the trees," said Philippe.
As a result, Philippe said she decided to build her Community Action plan around efforts of reforestation in Port-Margot, Haiti. This involves planting trees along rivers and controlling flooding caused by deforestation.
Philippe said she submitted her application in November, after completing her detailed commitments to action. She said she was asked to write 100 words about herself and 200 about the objectives of her project.
Philippe said she is most excited to meet other students, learn about other projects and discuss her plan with others. Departing for Miami by herself, Rix said Philippe will meet 41 other SEED students from across the nation who have also been selected to attend.
According to the Clinton Global Initiative University website the program seeks to bring together American and international students with an interest in solving global issues in one of the five problem areas: Education, environment and climate change, peace and human rights, poverty alleviation or public health.
Participating students have the chance to meet with other college leaders, celebrities and Nobel Peace Prize winners to discuss solutions to world issues, according to Rix. Attendees also attend workshops discussing ways to take initiative in solving world issues.
Rix said this is a great opportunity for a "quiet leader" like Philippe to "network, gain confidence and meet other young people who want to create change."
Philippe will graduate from the SEED program this spring and go back to Haiti on June 25. She said she looks forward to seeing her family and hopefully getting a job in the agronomy field. Philippe said she dreams of someday opening her own cocoa processing business in Haiti.
To thank for her accomplishments, Philippe said she is very grateful to the Coopérative Agricole des Planteurs Unis de Port-Margot (CAPUP) in Haiti who encouraged her to apply for the SEED program.
For more information on the Clinton Global Initiative University in Miami visit www.clintonfoundation.org.
Get Top Stories Delivered Weekly
More kirkwoodstudentmedia News Articles
Recent kirkwoodstudentmedia News Articles
Discuss This Article
MOST POPULAR KIRKWOODSTUDENTMEDIA
GET TOP STORIES DELIVERED WEEKLY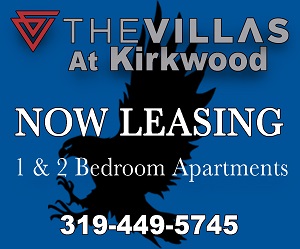 RECENT KIRKWOODSTUDENTMEDIA CLASSIFIEDS
HOUSING

JOBS

FOR SALE

TUTORS
COLLEGE PRESS RELEASES
Kirkwood students often admire
Lasik Omaha
doctors that are carving new paths in the field of eye care and transforming the way routine eye procedures are done.