Post Classifieds
Smaller clubs at Kirkwood running strong
Members aim to build creative spaces
By Zachary Goodall Gabryel Smith
On April 3, 2015
There are more than 100 clubs and organizations students can participate in at Kirkwood Community College. There are well-known clubs with high membership numbers but there are also a few that have a smaller following of students.
These clubs have a wide variety of purposes and interests ranging from sewing to reading and everything in between. One such club called Reader's Haven takes a new approach to the traditional book club. The club's founding member Meghan Schilla, Liberal Arts, stated she believes in a more relaxed approach to reading in a group setting.
"You don't have to have a set book to read," Schilla said. She stated the casual atmosphere of the club was preferred. "I like that because it doesn't feel like homework," she said.
Reader's Haven meets every Friday from 1:30 to 2:30 p.m. at the new book section in the library on the main campus. Schilla said anyone interested is encouraged to come and join the club.
Some clubs have even taken more eccentric interests like costuming design and prop making. A new club this semester called Sake of the Con is a club for students who are intersected in making or learning about costumes, prop making, make up and much more.
Forest Moore, software engineering, stated they welcome new topics and discussions and work on different projects. "We come in every Monday and we talk about a different topic and learn something new and learn more about the topic. Wednesdays are our lab days where everyone can come in and work on their projects," Moore said.
He added that students who have never heard of costume play or if they have any interest are welcome to attend club meetings. Sake of the Con meets every Monday and Wednesday from 3 – 6 p.m. in room 3008 Cedar Hall. Moore said he encourages interested students to join.
Both of these clubs have only recently begun and are a small look at the variety of clubs that Kirkwood offers its students. For more information on existing clubs or if students are interested in starting their own clubs, visit the Student Life offices on the second floor of Iowa Hall or visit Student Life's website at www.kirkwood.edu/studentlife.
Get Top Stories Delivered Weekly
More kirkwoodstudentmedia News Articles
Recent kirkwoodstudentmedia News Articles
Discuss This Article
MOST POPULAR KIRKWOODSTUDENTMEDIA
GET TOP STORIES DELIVERED WEEKLY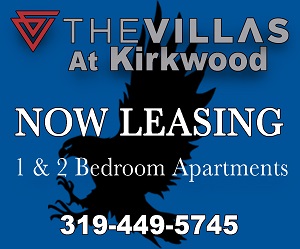 RECENT KIRKWOODSTUDENTMEDIA CLASSIFIEDS
HOUSING

JOBS

FOR SALE

TUTORS
COLLEGE PRESS RELEASES
Kirkwood students often admire
Lasik Omaha
doctors that are carving new paths in the field of eye care and transforming the way routine eye procedures are done.