Post Classifieds
'Furious 7' destroys box office
By Shelby Stender
On April 17, 2015
Furious Seven hit the box office hard, earning $153 million. According to The Verge website, the movie was bigger than any other movie of the Fast and Furious franchise or the Twilight Saga.
After the crew fought Owen Shaw in London in Fast and Furious 6, they returned to their home in Los Angeles. Dom Toretto (Vin Diesel) helps Letty (Michelle Rodriguez) get her memory back. Brian O'Connor (Paul Walker) tries to settle down with Mia Toretto (Jordana Brewster) along with their son and daughter on the way. But O'Connor struggles driving a minivan because he misses the action.
Back in London Shaw's big brother, Deckard, breaks into the hospital to find him in coma. Deckard (Jason Statham) promises to get revenge on Toretto's crew.
The writer, Chris Morgan, and director, James Wan, do an amazing job with the film. Furious Seven is full of multiple action scenes and cars flying through the air. The actors jump out of cars, buses and airplanes.
One of the most jaw dropping scenes in the movie is when the crew parachutes a car out of a C-130 plane over the Caucasus Mountains. The scene filmed in two places: The sky portion was over the Arizona desert and the landing portion was in Colorado. It took several months to execute the scene properly with full camera coverage. Andy Gill, stunt coordinator, said they did actually drop the cars out of the airplane. Gill said he got advice from the U.S. Army for the landing and 70 percent of the tests landed perfectly.
To add comedy, Tyrese Gibson and Chris 'Ludacris' Bridges joined the cast again. Gibson, with his character always cracking jokes, wants to be the leader of the crew this time. Ludacris's character is back to hacking computers with some help.
Furious Seven continued to film even though lead actor Paul Walker was killed in a car accident on Nov. 30, 2013. Walker's younger brothers Caleb and Cody contributed to the film following his death. Using CGI effects the producers were able to match Walker's face and voice.
Get Top Stories Delivered Weekly
More kirkwoodstudentmedia News Articles
Recent kirkwoodstudentmedia News Articles
Discuss This Article
MOST POPULAR KIRKWOODSTUDENTMEDIA
GET TOP STORIES DELIVERED WEEKLY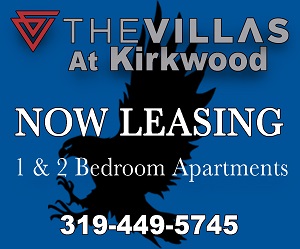 RECENT KIRKWOODSTUDENTMEDIA CLASSIFIEDS
HOUSING

JOBS

FOR SALE

TUTORS
Kirkwood students often admire
Lasik Omaha
doctors that are carving new paths in the field of eye care and transforming the way routine eye procedures are done.