Post Classifieds
Fuel Your Adventures with Great Coffee on The Road
on December 6, 2019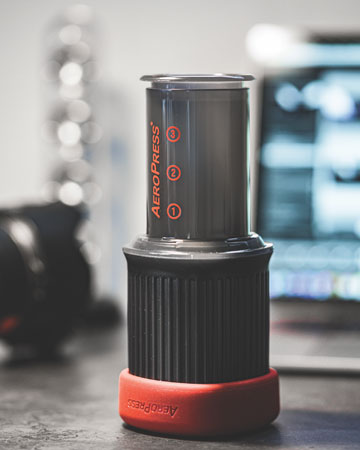 (
NewsUSA
)

- Sponsored News -Whether you are in a hotel room, at your desk, in an RV, or by a campfire, it can be difficult to get a good cup of coffee away from home. With the holiday travel season in full swing, travelers are wondering how best to enjoy their morning java while on the go.Most away-from-home coffee options have major drawbacks. Hotel room coffee makers are convenient and cheap, but the coffee they brew means a major compromise on taste. Local cafes often offer good coffee, but the cost of all those to-go cups can really add up. Existing travel coffee presses offer a way to brew while on the go, but they typically brew slowly and therefore brew a bitter and very acidic cup.Travelers benefit from being able to brew delicious coffee quickly and easily wherever they are. Luckily there is a perfect way to do just that. The AeroPress Go travel coffee press brews up to three cups of delicious hot or cold brew coffee that is richer, smoother, and lower in acidity than coffee brewed by other travel presses. Simply add ground coffee and water, stir briskly, press, and enjoy a cup of hot or cold brew coffee in just a minute or two.The AeroPress Go travels self- contained in its own mug with a lid, making it easy to fit in a suitcase, in a desk, with camping gear, in an RV or in a backpack. It is compact, lightweight, and durable, making it easy to transport. And it cleans up in just a few seconds with a quick rinse.The AeroPress Go's ability to make cold brew coffee is a big additional advantage because it can be used where there is no access to hot water. Wherever you go, there is almost always a source of water, but often no way to heat it. Use the AeroPress Go to join the hot new trend of drinking coffee that's an amazingly smooth, rich cold brew. With the AeroPress Go, it's easy to brew a cup of cold brew using unheated water in about two minutes.Visit
https://aeropress.com/
for more information about how to brew great coffee on the road.
Get Top Stories Delivered Weekly
Recent kirkwoodstudentmedia News Articles
Taking the next step
  Kirkwood Community College will host its commencement ceremony on May 17 at 10 a.m. at the US Cellular Center, according to Jill ...
Discuss This Article
MOST POPULAR KIRKWOODSTUDENTMEDIA
GET TOP STORIES DELIVERED WEEKLY
RECENT KIRKWOODSTUDENTMEDIA CLASSIFIEDS
HOUSING

JOBS

FOR SALE

TUTORS
Kirkwood students often admire
Lasik Omaha
doctors that are carving new paths in the field of eye care and transforming the way routine eye procedures are done.