Post Classifieds
Backyard Maintenance Tips For Summer
By NAPS (North American Precis Syndicate)
on June 4, 2018
(NAPSI)—Summer is here and it's time for backyard barbecues! Before your guests arrive, check these four backyard maintenance tasks off your to-do list to ensure your yard is looking good.
Clean Your Barbecue
To prevent food from sticking to your barbecue grills, rub cooking oil on the grates before you start. After you're done barbecuing, use warm, soapy water to clean the grates with a wire brush.
Give Outdoor Furniture a Pick-Me-Up
With all furniture, check for wear and tear that may have occurred during winter. Clean plastic furniture and chair or couch cushions simply with a cloth or soft scrub brush dipped in a mix of water and dish detergent. Some outdoor cushions can be thrown in the washer so check the tags.
Check Power Equipment
Since power equipment most likely hasn't been used in months, turn it on to make sure it's working properly. Some equipment may need to be lubricated to run smoothly again. Easily lubricate the moving parts of a lawn mower with WD-40 EZ-REACHTM. It has an 8-inch, flexible straw that bends and keeps its shape to get WD-40® Multi-Use Product into hard-to-reach places, like in and around the blade.
Tidy Up Your Lawn
Trim large plants, hedges and bushes that had a growth spurt during the spring, and remove dead limbs from trees. Remove leaves and other debris from the gutters around your home, and remove weeds from the lawn and garden. You may need to reseed some areas of your lawn as well.
With the completion of these four tasks, guests will be enjoying your backyard barbecues all summer long.
To see how WD-40 EZ-REACH can help you tackle other outdoor maintenance projects, visit WD40.com.
<![if !vml]>
<![endif]> "The moving parts of a lawn mower can be lubricated with WD-40 EZ-REACH. It has an 8-inch, flexible straw that bends and keeps its shape to get WD-40® Multi-Use Product into hard-to-reach
places, such as in and around the blade. http://bit.ly/2LXnnrm"
On the Net:North American Precis Syndicate, Inc.(NAPSI)
Get Top Stories Delivered Weekly
Recent kirkwoodstudentmedia News Articles
Taking the next step
  Kirkwood Community College will host its commencement ceremony on May 17 at 10 a.m. at the US Cellular Center, according to Jill ...
Discuss This Article
MOST POPULAR KIRKWOODSTUDENTMEDIA
GET TOP STORIES DELIVERED WEEKLY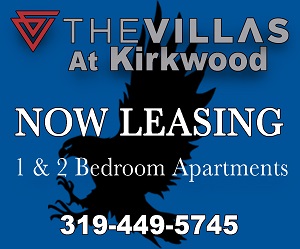 RECENT KIRKWOODSTUDENTMEDIA CLASSIFIEDS
HOUSING

JOBS

FOR SALE

TUTORS
Kirkwood students often admire
Lasik Omaha
doctors that are carving new paths in the field of eye care and transforming the way routine eye procedures are done.